Black Bean Sauce Chicken Recipe
Black Bean Sauce Chicken is a simple yet delicious Asian dish and you can easily make it in the slow cooker or crockpot.
The Chinese black beans or black bean sauce is different from the black beans in Mexican cuisine.
These are actually fermented soy beans in garlic, salt and other seasonings.
There are many Asian dishes that call for this ingredient so it is almost a must in Asian kitchens.
Since this is common ingredient in Asian cuisine, you should be able to find black bean sauce in the regular supermarket.
I do prefer the Lee Kum Kee brand's Black Bean Garlic Sauce which is what I use to prepare this dish.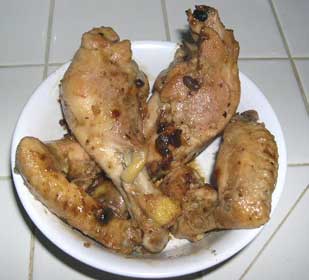 Slow Cooker or Crockpot Black Bean Sauce Chicken Recipe
INGREDIENTS:
2 lbs chicken, skinned and trimmed of fat
2 teaspoon sesame oil
2 teaspoon sugar
2 teaspoon cornstarch
2 tablespoon oyster sauce
2 tablespoon Black Bean Garlic Sauce
DIRECTIONS:
Combine sesame oil through Black Bean Garlic Sauce. Mix well.
Add mixture to chicken. Make sure chicken is evenly coated.
Marinate overnight or for at least 1 hour.
Cook on low for 6 to 8 hours or on high for 3 to 4 hours.
Serve the Black Bean Sauce chicken with steamed rice and vegetables.