Asian Ginger Soy Sauce Chicken
This is a yummy Asian Ginger Soy Sauce Chicken recipe which is so easy to prepare and goes well with white rice.
I love ginger so I actually use a 3 inch piece and slice it thinly. If you do not like ginger, you might want to decrease the amount.
You can also use ground ginger but might want to decrease the amount to about 1 teaspoon.
The chicken will be tastiest if you marinate it for at least 30 mins, but will be even better overnight.
If you like you can also prepare some bokchoy or napa cabbage and place it in the slow cooker the last 30 minutes or so.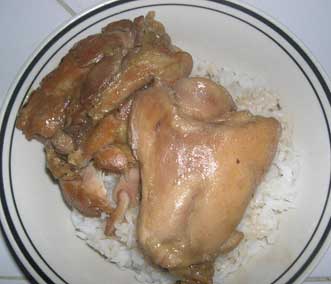 Asian Ginger Soy Sauce Chicken Recipe
INGREDIENTS:
10 chicken thighs, skinned and trimmed
5 cloves garlic, minced
2-3 inch ginger, sliced
3 tablespoons oyster sauce
2 tablespoons Chinese wine or sherry wine
1 tablespoon soya sauce
1 teaspoon white pepper or black pepper (optional)
1 1/2 teaspoons sugar
1 tablespoon low-sodium worcestershire sauce
1 tablespoon sesame oil
salt for seasoning
DIRECTIONS:
Season chicken with some salt and place in the slow cooker.
Mix all ingredients (garlic through sesame oil) in a bowl and pour over chicken.
Blend and make sure that the chicken is well coated.
Cover and place in the refrigerator for at least 30 minutes or overnight
Cook on low for 8-10 hours or on high for 4-5 hours.
Serve with white rice.