Japanese Chicken & Egg Bowl - Oyako Donburi
Oyako Donburi is one of my favorite Japanese dishes. It is a very simple dish (what's simpler than chicken and eggs?) and yet so delicious.
I've had this dish at several restaurants and they all seem to taste a bit different. I like the broth to be on the sweet side so the recipe reflects that.
You can adapt the combination of soy sauce, mirin and sugar to your taste.
I used to make this using a skillet but I've adapted this recipe for the slow cooker so that I set it up, leave for work and come home to a delicious meal.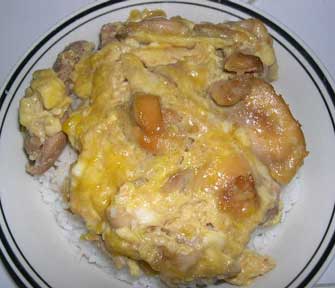 Oyako Donburi Recipe
INGREDIENTS:
8 medium chicken thighs, skinned, boned and cut into strips
2 medium onion, sliced thinly and separated into rings
10 dried shiitake mushrooms, soaked until soft, then sliced into strips
4 tbsp soy sauce
3 tbsp mirin
2 tbsp sugar
1/2 cup chopped green onions (optional)
5 eggs, lightly beaten

DIRECTIONS:

Place onions, mushroom and chicken strips in the slow cooker or crockpot.
Combine soy sauce, mirin, and sugar in the pan. Do a taste test and adjust combination to your liking.
Pour sauce over chicken in slow cooker or crockpot.
Cover and cook on low for 6-8 hours or on high for 3-4 hours.
Spoon out about 1/2 to 2/3 cups of liquid.
Place slow cooker pot on medium heat over stove or transfer ingredients to a large skillet.
Add green onions to egg (optional) and Pour the eggs over chicken.
Cook until the eggs are set.
Serve over bowl of Japanese rice or white rice.