Peking Pork Chops Recipe
This Peking Pork Chops recipe is so simple to make and delicious. It uses very basic everyday ingredients that should be in anyone's pantry.
While the recipe calls for pork chops, you can also use spareribs (you'll often find this at a Chinese restaurant). Substitute with chicken breast or skinless, chicken thighs for a healthier version.
It is best served with white rice, steamed jasmine rice is what we prefer.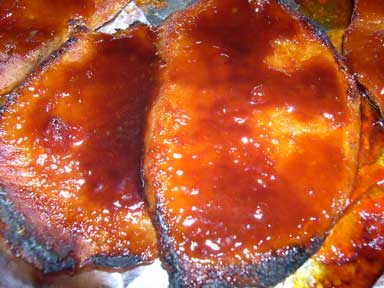 Peking Pork Chops Recipe

INGREDIENTS:
8 pork chops, about 1" thick
1/4 cup brown sugar
1 teaspoon ground ginger or grated fresh ginger
1/2 cup soy sauce
1/4 cup ketchup
1-2 cloves garlic, mashed
salt & pepper, to taste
DIRECTIONS:
Trim excess fat from pork chops. Season with some salt and pepper (optional).
Place pork chops in slow cooker or crockpot.
Combine brown sugar, ground ginger, soy sauce, ketchup, garlic, salt & pepper.
Pour mixture over meat.
Cook, covered, on low for 4 to 6 hours, or on high for 3-4 hours or until tender.
Remove and broil for a few minutes, if desired.