Sweet Maple Ribs Recipe
This SWEET Maple Ribs recipe will certainly please every sweet tooth in your family. Warning though, it may be too sweet for some!
While you can certainly use baby back ribs for this recipe, I prefer short ribs as it seems to have more meat than bones. You can also use pork ribs if you like.
Ribs are not the healthiest choice around so to decrease some of the fat, you can boil the ribs first for about 20 to 30 minutes.
I also like to broil the ribs to char them a little prior to serving.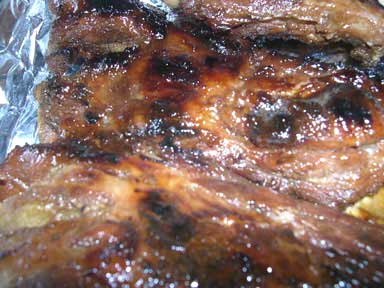 Slow Cooker Sweet Maple Ribs Recipe
INGREDIENTS:

4 pounds short ribs
3/4 cup maple syrup
2 tablespoons packed brown sugar
2 tablespoons ketchup
1 tablespoon cider vinegar
1 tablespoon Worcestershire sauce
1/2 teaspoon salt
additional salt for seasoning
DIRECTIONS:
Season the ribs with some salt.
Boil the ribs for about 20 to 30 minutes (optional).
Combine maple syrup through salt in the slow cooker pot or saucepan.
Heat until the sugar has melted and the ingredients are well blended.
Place the slow cooker pot on the base or pour the mixture into the crockpot.
Add the ribs.
Cover and cook on HIGH 5-6 hours or until ribs are tender.
OPTIONAL: Remove ribs and place under broiler for 3-5 minutes.