Teriyaki Chicken Recipe
Teriyaki Chicken originated from Japan but these days, people enjoy it all over the world.
Teriyaki sauce is slightly sweet, slightly salty and is excellent with chicken, meat and fish.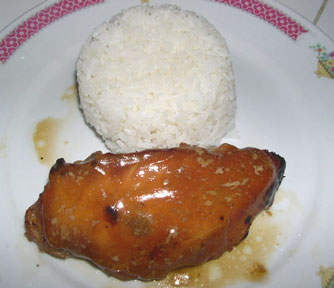 Slow Cooker or Crockpot Teriyaki Chicken Recipe
INGREDIENTS:
2 lbs chicken, skinned and trimmed of excess fat
1/4 cup soy sauce
1/4 cup mirin (sweet rice wine)
3 tablespoon brown sugar
1 tablespoon fresh grated ginger
2 teaspoon cornstarch
salt for seasoning
DIRECTIONS:
Lightly season chicken with some salt.
Mix soy sauce through corn starch in a bowl.
Marinate chicken in the mixture overnight.
Cover and cook on low for 6 to 8 hours or on high for 3 to 4 hours.
Remove chicken from the slow cooker pot or crockpot.
Serve Teriyaki Chicken with steamed rice and vegetables.